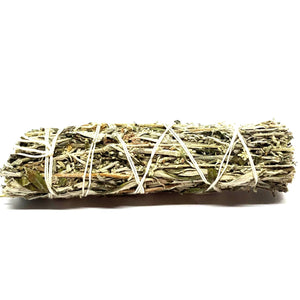 Black Sage

Black Sage is a small, highly aromatic, evergreen shrub of the genus Salvia native to California, and Baja California, Mexico. Black sage is used to encourage visions and vivid dreams. When burned during or before bedtime, this herb aids pleasant dream and a restful sleep all through the night.  It also helps increase positive energy in your home by removing all the negative and harmful energies.
How to Use Sage?
 

Loosen the ribbon around the sage then 'break' the sage bundle into smaller bundles.

Take a small bundle of herb and light it up, holding at 45-degree angle.
Let it burn a few seconds then blow out the flames until you see orange embers.
Let the sage sit on a fire-proof container while you gently swaft the smoke throughout your space.
All our herb smudges are from California, USA.