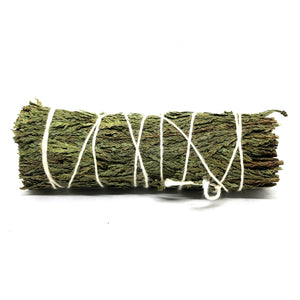 Cedar
Cedar has long history of purifying properties. For centuries, It was a symbol of strength, longevity and wisdom among the Native Americans. The Cedar tree was thought to house important gods and to be an entrance to higher spiritual realms.
It was often used to not only purify an ill person or clear a space from negative entities, but also to bring joy & light. According to the ancient Native American Medicine Wheel, the Cedar was considered one of the most sacred herbs, followed by White Sage, Sweetgrass and Tobacco.
How to Use Cedar?
 

Loosen the ribbon around the cedar then 'break' the bundle into smaller bundles.

Take a small bundle of herb and light it up, holding at 45-degree angle.
Let it burn a few seconds then blow out the flames until you see orange embers.
Let the sage sit on a fire-proof container while you gently swaft the smoke throughout your space.
All our herbs are sourced ethically from California, USA.