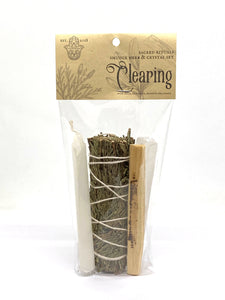 Your clearing and purifying tools all in a bundle. Use kit when clearing a new home, office or yourself from stagnant and draining energies. 
This 'Clearing' Kit comes with:
1 Cedar smudge bundle

1 Palo Santo stick, ethically sourced from Ecuador
1 white pillar candle
1 selenite stick, roughly about 10cm long
'Clearing Ritual' instructions printed at the back of the paper.