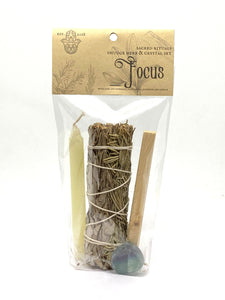 Feeling distracted? Finding it hard to grasp inspiration or stop the mind chatter so that you can start focusing? Create a ritual with our 'Focus Kit' to infuse your energy and your work space with focus and study vibes.
This 'Focus' Kit comes with:
1 White Sage & Rosemary smudge bundle

1 Palo Santo stick, ethically sourced from Ecuador
1 yellow pillar candle
1 Rainbow Fluorite tumbled stone
'Focus Ritual' instructions printed at the back of the paper.