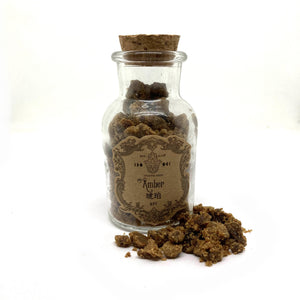 Amber resin is a highly aromatic resin with sweet, vanilla and woody notes. You will only need to burn a pea-sized nugget to infuse your space with its scent. The rich, complex fragrance of amber is a favorite for meditation, love magick, earth magick, dark moon workings, or as a sophisticated stand-in for musk or patchouli.
Amber is a compound fragrance, meaning it is made up of a mix of ingredients. It is usually described as warm, sweet, and a little spicy. Benzoin and vanilla form the base notes of most ambers. 
Use resins to create your very own incense by blending with other resins, flowers, wood and herbs. 
How to use Natural Resins
Pour a small amount of sand into the incense burner. Place the charcoal tab on the sand.
 Heat the the charcoal tab with flame. The tab is fully ignited when the sparks have trans versed through the charcoal tab.
When the charcoal is fully ignited, a gray, ashy soot will cover the red-hot, glowing tab. This indicates the charcoal tab is ready for use.
Spread the natural resins on top of the charcoal tab using small spoon and enjoy the exotic fragrance released by the natural resins.
To continue the fragrance, just feed the charcoal tab with more resin. Immerse the charcoal tab in water once done.