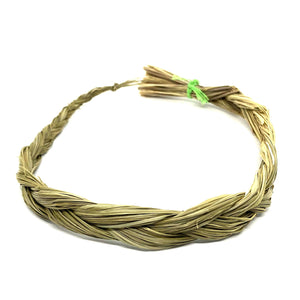 Sweetgrass
Sweetgrass is a fragrant grass with long, satiny leaves. Also known as vanillagrass, mannagrass and holy grass, it is well known to many Indigenous people in Canada and the United States as a material for baskets, as well as a scent, medicine and smudge. It was burned and used ceremonially in North American indigenous cultures to attract good spirits, to purify thoughts, the environment and to eliminate bad or negative thoughts.
How to Use Sweetgrass?
 Simply light the tip of the braid and swaft the smoke to purify your space.

Alternatively, you can snip the braid and light it on a hot charcoal.
All our herb smudges are from California, USA.