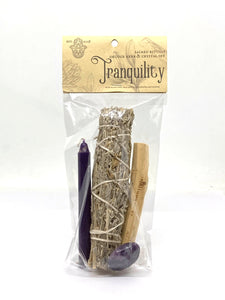 Feeling unsettled or anxious all the time? Or just overall stressed before going to bed? Try Tranquility Kit. Follow simple steps to calm the mind, soothe nerves and relax the body. You can also use this kit to imbue your space with soothing energies if ever you feel tensed after a tough day.

This 'Tranquility' Kit comes with:
1 Black Sage smudge bundle

1 Palo Santo stick, ethically sourced from Ecuador
1 Purple pillar candle
1 Lepidolite tumbled stone
'Tranquility Ritual' instructions printed at the back of the label.