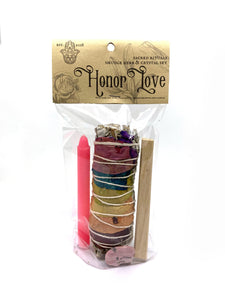 'Honor Love' is a special kit to imbue your home, office or your energy field with loving vibrations. A kit to learn how to embrace your true self. 

This 'Honor Love' Kit comes with:
1 White Sage & Rose smudge bundle

1 Palo Santo stick, ethically sourced from Ecuador
1 Pink pillar candle
1 Rhodochrosite tumbled stone
'Honor Love Ritual' instructions printed at the back of the label.