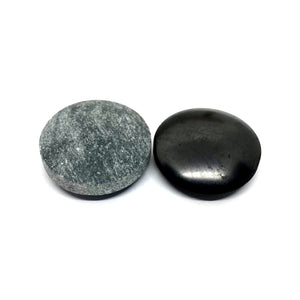 Shungite Pocket Harmonizers
The harmonizers found only in Russia are made of Shungite and Karelian steatite. Steatite (Soapstone) is a soft, grey stone that vibrates with the upper part of the energetic body and supports a good active exchange with Shungite, which stimulates the lower part of the body. 
How to use
Shungite is considered the YIN side of the body and it is held on the LEFT hand or placed in the left side pocket. Left side connect us to our feminine side, the lunar / female energy. Shungite sends a subtle energetic current that acts as a catalyzer, reinforcing the energy of the soapstone harmonizer.
Steatite ( Soapstone) is considered the YANG of the body and it is help on the RIGHT side of the body or right side pocket. The right side is connected to the male / solar energy of the body. When used during meditation, the harmonizers keep us centered and grounded, and our vibrations high.
*************************************************************************************
Size in approx:
- 3cm x 1cm