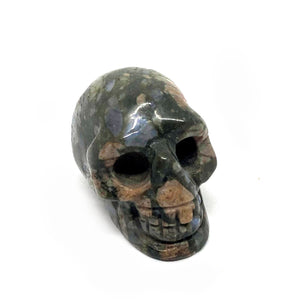 Llanite a.k.a Que Sera Stone
Llanite is a soothing stone that helps us to achieve a state of grace. It promotes co-operation between people and turns a negative outlook into a positive one, allowing solutions to be reached. Llanite helps us to look at what we want to achieve and then plan the necessary steps we must take in order to do so. It helps us to be more aware of the options we have to create the life we want. Spiritually, Llanite can help us to focus our mental, physical, psychic and spiritual powers to maximum effect. It is an excellent stone for meditation enabling us to receive energies from higher planes and then distribute those energies to all who may need them 
What is the symbology of Skulls?
The skull takes on a variety of meanings including the unachievable nature of immortality, death and mortality, as well as spiritual guidance from ancestors and spirit guides.
SIZE  IN APPROX.:

-  3cm 

Color may vary slightly due to the color calibration of each individual monitor.