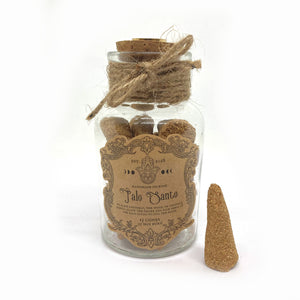 Palo Santo Incense cones were handmade right here at our studio using the finest, pure and ethically sourced Palo Santo powder from Ecuador.
Our handmade incense are stored in a "potion" like bottle with a brass cone holder screwed tightly on the cork. 
Palo Santo
Palo Santo is a tree that's native to Peru, Ecuador, and other South American countries. It grows in dry tropical forests and produces very fragrant resin. In Spanish, palo santo means "holy wood."
For thousands of years, the wood, resin, and oil have been used for medicinal purposes. It's mainly to clear stagnant and negative energies from homes.
Each bottle comes with 15 handmade Palo Santo cones.
Each cone burns approx. 25 minutes and produces a continuous flow of sacred smoke, making it ideal for space cleansing.