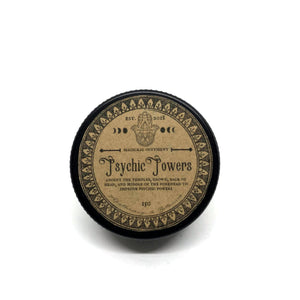 Psychic Powers Ointment
Anoint the Third Eye Chakra ( the seat of intuition), temples, and back of neck to open and increase  psychic abilities. Use it prior any form divination such as card reading, palmistry, etc. Made with 100% pure Lemongrass and Rose essential oils, organic beeswax and organic almond oil. Shelf life of up to a year.
Ointments are very similar to anointing oils. The only difference is that ointments tend to hydrate and stay on the skin much longer due to the beeswax. They can also be used to anoint/ bless ritual tools and candles.