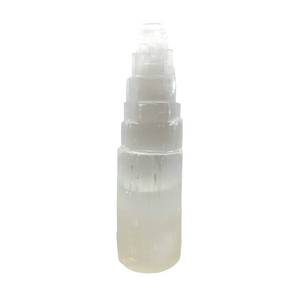 Selenite

The Selenite crystal stone meaning is all about purification, clearing, and positive energy. This high vibration crystal clears your own energetic field, the envirornment and your crystals and may also act as an amplifier when placed on crystal grids. Perfectly suited to remove unwanted energy and replace it with light and positive energy. 
Why get a Selenite Tower Lamp?
A Selenite Tower lamp is a powerful cleansing tool to have in your home, office and sacred space, as it will constantly cleanse, clear and protect the energy of your environment while radiating a soft light to invoke a sense of relaxation and peace. Our lamps have an adjustable controller to select your preferred brightness. 
All Selenite lamps have a drilled hollow hole at the base.
SIZE  IN APPROX.:
XL - 30cm 
Color may vary slightly due to the color calibration of each individual monitor.