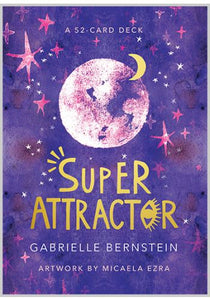 52 affirmations to help you start manifesting limitless abundance today.
 
Being a Super Attractor means that what you believe is what you receive. This 52-card deck will inspire you to live a life filled with joy, grace, ease, and strength, and start manifesting your dreams into reality.
 
Each of the 52 cards offers an inspiring mantra to support and guide you. Anytime you want guidance, simply shuffle the deck, choose a card, and have faith in the guidance you receive.
52 Card Deck with no guidebook

9.8cm x 3.2cm x 14cm