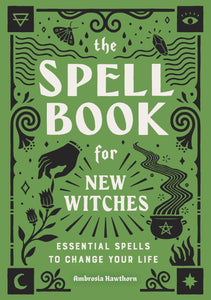 The Spell Book for New Witches will teach you the art of spellcasting and help you manifest your destiny. Featuring 130 simple spells, it's the perfect book for witchcraft beginners who want to conjure romance, money, health, and more. The spells are pulled from a range of Wicca practices, and the book also includes general knowledge like:
- How to create an altar―It's important to create a sacred, negativity-free space to perform your spells, ceremonies, and rituals, and this book shows you how to make yours.
- Witchcraft terminology, best practices, and common misconceptions―Immerse yourself in the world of witchcraft to inform your practice and improve your ability to tap into the spirit world.
- How to use spells every day―Information about calendars, cycles, and seasons will help you maximize the magic. You also get an ingredient list for a basic witch's pantry to ensure you're ready when you want to spell cast.