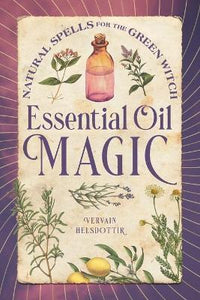 Cultivate your craft with the natural power of essential oil magic

Distilled from the most fragrant, magical, and healing plants, essential oils have been used in witchcraft for thousands of years. Essential Oil Magic is your own personal reference guide to making magic with oils. It simplifies and modernizes the practice, showing any witch how to use potent plant essences to transform their body, mind, and spirit. Discover detailed profiles on 30 powerful essential oils like basil, cedar, and sage, then explore an array of rituals and recipes that will elevate your practice and the magic you can conjure.

Try out homemade spells like:
Clear The Air of stagnant energy with a diffusion of lavender and black spruce for your home.Attract love and romance with a Goddess Body Wash of honey, patchouli, and rose.Manifest wealth with a Pocket Pyrite charm anointed with orange and ginger.

Practice the art of oil magic and unlock the green witch within.

204 pages

14.6cm x 22.6cm x 1.8cm