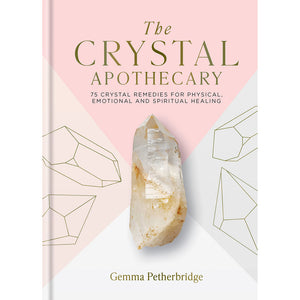 Whether you are suffering from stress, insomnia, loneliness or heartbreak, or looking to improve your relationships, attract wealth, or let go of your fears, this beautiful reference guide can recommend a crystal to help your cause.

With detailed descriptions of 75 crystals, their attributes and powers, information on how to select, cleanse and care for your crystals, and how to put them to use - whether by creating a crystal grid, meditating with your crystal, performing a crystal ritual or preparing an crystal elixir - this book will help you to harness the therapeutic power of crystals to heal yourself and transform your life.

Divided into eight main chapters, each relating to a specific area of your life (Your Body, Your Mind, Your Heart, Your Soul, Your Emotions, Your Relationships, Your Obstacles and Your World), this book is inspired by ancient apothecaries of days gone by, which formulated medicines and dispensed healing herbs, while offering a wealth of advice and services to soothe their customers' ailments.

An illuminating reminder of the healing power of crystals, The Crystal Apothecary is a book that you will return to again and again for many years to come.

192 pages

15.6cm x 21.4cm x 2cm