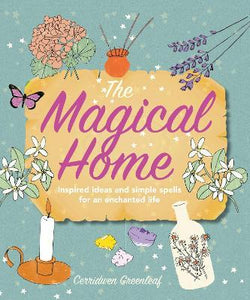 Winner of Best Magic Spell Book in the Soul & Spirit magazine Spiritual Book Awards
Transform your living space into a comforting home with a little magic.
From step-by-step instructions for divine decluttering to 'pagan feng shui' for every room, Cerridwen Greenleaf's guide to a happy home is essential reading for anyone who wants to live the good life. Replete with easy ideas for a charmed life, this gorgeously illustrated book teaches you how to increase your happiness quotient at home. Learn how you can make an effortless herbal prosperity potpourri and which crystals will create harmonious vibrations and improve relationships. Delight in healthier options for the whole household with DIY herbal cleansers that reduce toxins in your personal space and ensure your home is always filled with good energy. Create your own magical pantry and ensure your sleeping space is a true sanctuary with spells and scents. As instructive as it is inspiring, The Magical Home is a go-to guide for anyone who wants to live an enchanted life.